Simple Low Fat Meatballs.
Bergy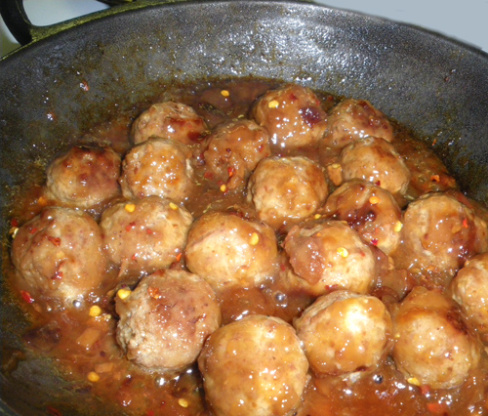 I got this recipe from a Women's Health magazine. They suggest you add Cajun seasoning to these since they are supposed to be an appetizer. Also, their nutritional information is that these have 20 calories each, .5 fat grams, and 3 grams of protein. Not a significant source of sodium, carbs, or fiber.

Top Review by Bergy
Easy recipe -low fat too. I confess that I used xlean ground pork, ground special by my butcher then I used up some leftover sauce from A crock pot Cranberry pork roast - The sauce was wonderful on the meatballs. Although I pan fried them I only used a spritz of "No Oil" browned them and then added the sauce and simmered them for a half hour. - All still very healthy
1

lb pork tenderloin

2

tablespoons fresh parsley (or 1 tbsp dried)

2

teaspoons minced garlic (I like to add more)
1⁄4 teaspoon salt
Preheat oven to 375°F.
Dice tenderloin into one inch cubes.
In a blender, add all ingredients and pulse about 16 times until well mixed and evenly ground.
Roll into 32 meatballs.
Place on baking pan and spritz with Olive oil.
Bake for about 10 minutes or until juices run clear and they are no longer pink.
**Note: I am saying this makes 32 servings for nutritional ease of understanding. However, I would say if people eat about four each, then you would really get 8 servings.