ImPat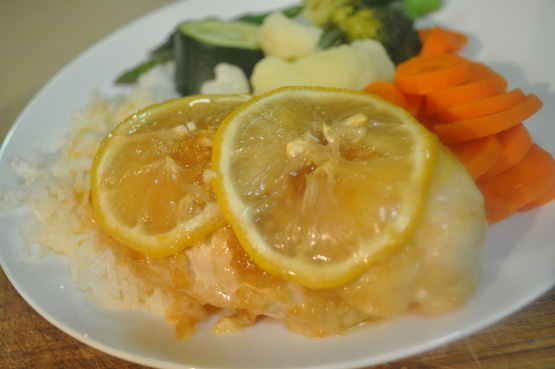 The simple things in life are the best. Served with rice and salad this makes for a simple, easy and great tasting dish to make after a long hard day.

Well, I must confess that I have made this twice in less then one week. The first time I followed the recipe as written but found that adding the liquid to the pan before placing it in the oven and covering it caused the flour coating on the chicken to get gummy. Normally that would cause me to only give the recipe 4 stars, however; Tisme, the flavor was still so wonderful, I overlooked the texture of the coating. The night I made it, I was the only one home, but I knew it was a recipe my cousin would enjoy. So, when she returned from her trip, I made it for dinner for the two of us. When I made it the second time though, I added just a drizzle of olive oil into the baking pan and omitted the chicken stock. Loved the outcome! The chicken was still very moist, the coating was golden and not soggy, and I think the lemon flavor shied through even more. My cousin said your chicken recipe must become part of our regular rotation, and she asked me to write out the recipe for her. Thanks for sharing. Made and reviewed for the May 2013 AUS/NZ Recipe Swap.
Preheat oven to 190°C Sprinkle the lemon juice over the chicken breasts. Mix the flour, salt and paprika in large plastic bag. Place chicken in the bag and shake the chicken in the flour mixture.
Heat the oil in a frypan over high heat and fry the chicken to just brown. Transfer chicken to a baking dish. Sprinkle chicken with the grated lemon rind and soft brown sugar. Cover with slices of lemon and pour over the chicken stock. Cover with foil and bake for 25 – 30 minutes.
Serve when ready.