Simple Italian Bean Salad
katia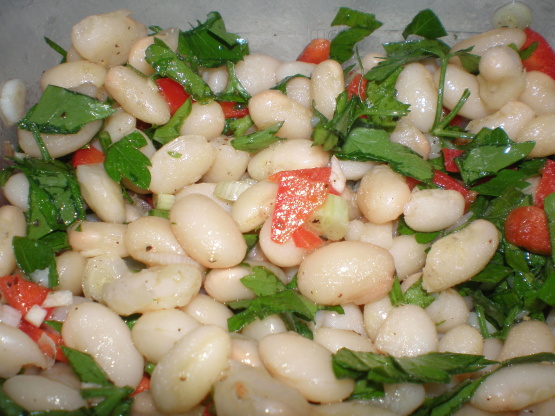 No cooking involved. Canned beans make this easy to throw together.

These tasted very good. The only problem was that mine got a little bit soupy and didn't look very appetizing. I took it to a potluck and I think everyone was afraid to try it. I think I might not have drained the beans well enough. If I make this again I will be sure to drain them really well and maybe even rinse them in a colander to make sure to get that thick gunk from the can off.
In a large bowl, combine the spring onions, garlic and chili.
Add the three cans of beans and mix thoroughly.
Whisk together the olive oil and white wine vinegar and season.
Drizzle over the bean salad and stir in with the parsley.
Serve straight away or refrigerate until ready.