Simple Herb Baked Chicken Breast (Ibs O.k.)
Sara 76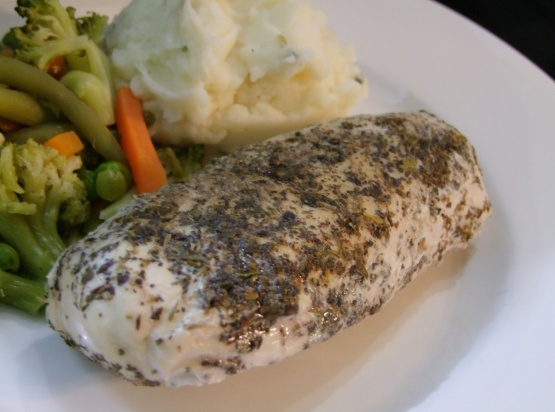 This a simple to prepare chicken recipe that sits well with a sensitive (IBS) stomach.

I chose this recipe because I loved all the ingredients in it but when I was making it I thought with all the dried herbs the flavour of the chicken would be overpowering, but it wasn't. The flavours were strong, but not to overwhelming. When I was eating the chicken, I wanted more after each bite. Hubby liked it so much she wants me to make it again. The chicken turned out to be really tender, I think its because covering the chicken breasts with the foil allowed them to steam as well roast. For side dish I served lemon red potatoes and a tomato and fresh herb salad. Thank you morgainegeiser for a wonderful recipe.
Preheat oven to 300 degrees.
Place the chicken on a broiling rack in a shallow pan.
Brush each breast with 1 teaspoon olive oil and rub generously with herb mix.
Bake 40 minutes, covered with foil, basting occasionally.