Simple Healthier Seafood Salad
Parsley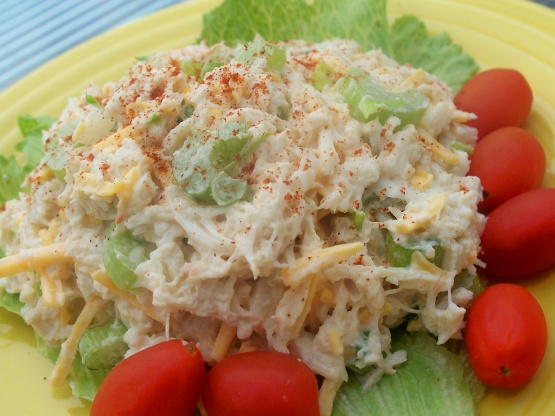 This is a recipe adapted from a book called Quick and Healthy Recipes and Ideas, where I have been looking for lower fat, sodium and calories without sacrificing taste. Imitation crab can be used but look for ones with as short as an ingredient list as possible to avoid many of the extra preservatives etc. Fresh crab has significantly less sodium than imitation. ZWT REGION: The Netherlands.

Very simple. I knew what I wanted, but didn't know proportions, and this helped me get just what I wanted! Left out the cheese, although I may try it with the cheese sometime.
Mix all ingredients in a bowl and combine well.
Serve on salad greens, toast or enjoy it 'as is" -- .