Simple Greens and Fruit Salad With Gorgonzola Cheese

This is a favorite salad in our house. I change it around to match the fruits of the season. Some of our favorites are: canned mandarin oranges, diced apples, diced pears, fresh berries, or even Craisins. I love the fact I always have something in the fridge to top the salad. My husband doesn't like blue cheese, but the Gorgonzola isn't as strong to him. I use Paul Newman's light dressing, but use one you like!
Directions
Put the salad greens and the dressing in a ziploc bag. Toss to mix well. Pour the tossed greens into the serving bowl.
Top with the cheese, fruit and nuts and serve.
Reviews
Most Helpful
I used apple, clementines, and dates for my fruit this time, but am so excited to try this with berries and other kinds of fruit. I love how versatile it is! I used a simple vinaigrette for my dressing. Thanks, CookingBlues. [Made for Best of 2012 Tag Game]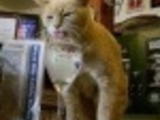 What a lovely salad! I used blueberries for the fruit and it was so good with the walnuts, cheese and the sweet/tangy dressing. Really loved this - thanks for sharing the recipe! Made for Fall PAC 2012