Simple Greek Scrambled Eggs
Bergy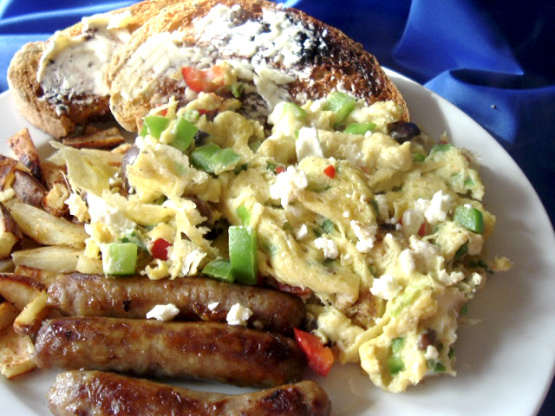 I saw a recipe here for Greek Scrambled Eggs and wanted to make them at work, but realized I didn't have all the ingredients so I simplified it. These are a pretty good seller when I put them up on the Specials Board.

Made a divine holiday breakkie with fried brown bread and tomato salad - did not have greek seasoning, so I added thyme, black pepper and garlic. I don't really like egg yolks, so I made it with double the amounts of whites and reserved the yellow to make custard for ice cream. Many thanks, tasb!
In a small bowl beat eggs. Add green pepper, green onion and olives (if using).
Heat pan and coat with cooking spray or coat with oil.
Scramble fry eggs, season with greek seasoning, when almost done top with feta, I usually add a couple tablespoons of water and cover so the feta starts to melt.
Serve with toast and or hashbrowns or even rice.
When I first started making this I didn't have the greek seasoning, and you can use any color peppers. I think the olives are optional, mostly because I don't like them and I find people around here don't like them either.