Parsley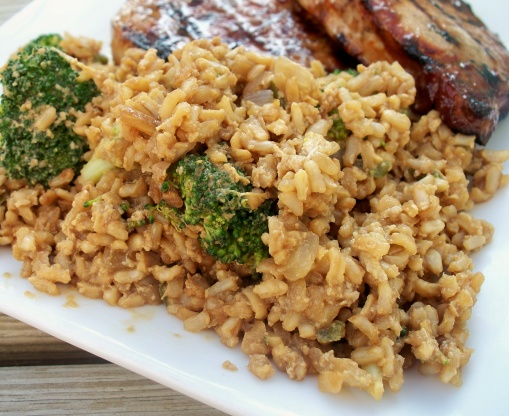 This is my grandma's recipe. It's so quick and easy to make. It goes just perfect with any Chinese dish you may be making.

This was AMAZING. So simple and quick. I was worried about no seasoning added to it BUT IT DIDNT need it! Only thing i did different was added broccoli and other than butter i used butter cooking spray (not a big butter fan) perfect perfect perfect recipe!
2

tablespoons oil (Sesame works best)

1

tablespoon butter
1⁄4 cup green pepper (chopped)
1⁄8 cup green onion (chopped)

3

eggs
1⁄4 cup soy sauce

2

cups white rice (Just a little undercooked, I use "minute rice" and cook it in 2 cups of water for 4 minutes in the m)
In a wok or frying pan heat oil and butter until very hot.
Add peppers and chives and cook for about 2 to 3 minutes.
Add eggs and cook like scrambled eggs.
Add rice and soy sauce and cook, moving rice around constantly until done (About 2 minutes).
You can also add some black pepper if you like.
Serve right away or keep warm until serving.