Simple & Easy Crispy Rice Candy - Kid Favorite!
Cuistot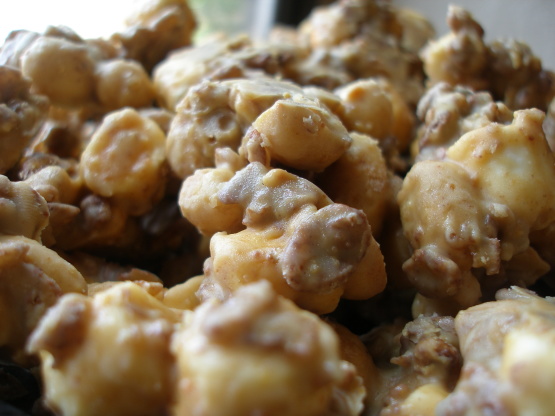 This is a super simple candy recipe that everyone loves and has become a favorite at my office as well as our home.

These are super simple to make & soooo yummy!!!! My family really enjoyed them. I made half a batch just to see if we liked them. I used creamy peanut butter instead of crunchy & added a bit more cereal & peanut butter. I also used white almond bark instead of white chocolate. I didn't want to wait 2 hours for them to firm up so I placed them in the freezer for about 6 minutes & they were ready. I'm thinking next time I may add some mini semi-sweet chocolate chips....This recipe is definitely a keeper!!
In a large bowl, combine cereal, peanuts, marshmallows and peanut butter. Stir until evenly mixed.
In a microwave-safe bowl, or in a double boiler, cook chocolate until melted. Stir occasionally until chocolate is smooth.
Stir chocolate into cereal mixture. Mixture will be slightly runny.
Drop by tablespoons onto waxed paper. Let set until firm, 2 hours. Store in an airtight container.