Sarah S.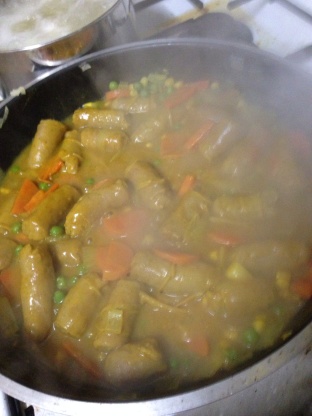 Quick and easy this is a great winter warmer meal. Also if you are wanting to have a young child help, this recipe is ideal, and they feel like they have made it themselves because it's so easy!
made this with precooked beef sausages, a cup of frozen peas and corn and a sliced red onion... I added a tablespoon of curry powder and found it wasn't quite spicy enough.. will add more next time as well as a pinch of salt..brings back childhood memories.. thanks for this recipe
First boil the sausages and remove the skins.
Slice them up into chunks.
Place them in a saucepan with sufficient water to cover,.
Add onion, vegies and bring to the boil.
In a small cup put flour, curry powder and enough cold water to make a paste.
Remove saucepan from the heat and stir in thickening and replace on element.
Bring saucepan back to a simmer and cook until vegies are done.