Simple Crock Pot Beef Stew
Annacia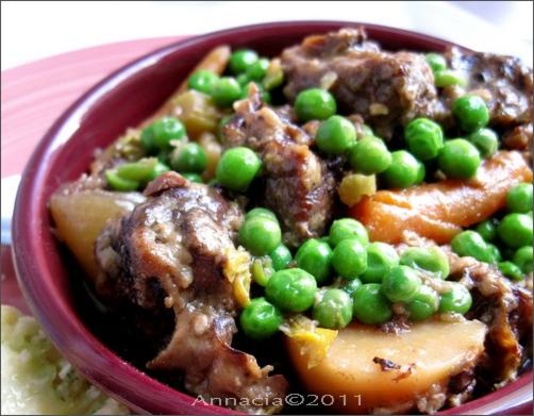 Just a silly twist on beef stew I threw together. All depends on your personal taste what you like to add in. These are ours. ;) I find that it just gets better the longer it cooks - and that you can sort of use the cooking times as "guidelines". Sometimes I start out the night before while making another quick meal (I made it during my Family Pleasing Chicken Paprika) and let it go slowly over night for the next evening's meal - the picture I posted is from that. ***Note: (I tend to be heavy handed when I shake or pour spices so measurements are approx. go by your own tastes)

One word ~ "DELICIOUS"!!! Made as written with a couple of adjustments, I seasoned the stew meat with Cavender's All Purpose Greek Seasoning (salt free) then browned without the flour, only used 32 ounces of beef broth and about 1 1/2 cups red wine, cooked on high for the first hour then switched to low for 5 hours, after adding the pearl onions and button mushrooms in place of peas, switched back to high for the last 2 hours, I thickened the sauce with a cornstarch slurry mixed with a teaspoon of Gravy Master. Perfect beef stew so tender and flavorful! Thanks for sharing the fabulous recipe. Made for Mommy Diva's Cook-A-Thon 2012 ~ Fight Like a Girl!
Lightly dredge beef in flour with 1 teaspoon garlic powder, black pepper to taste, a pinch of salt, and paprika.
Brown in pan with 2 tablespoons of olive oil.
Add to crock pot.
Mix in crock pot all remaining ingredients except the peas and onions (hold aside the gravy mix, cold water and corn starch until the end to thicken).
Cook for 6 hrs on high or 8 hours on low if you are leaving house.
Turn down to low and simmer as long as needed.
Thicken "soup" base to desired consistency using brown gravy mix and corn starch with 1 cup cold water.
Be sure to whisk thoroughly before adding to crock pot to avoid lumps.
Add peas and onions and cook for at least 2 hours prior to serving.
Remove all bay leaves, serve with crusty bread or your favorite starch.
Enjoy ;).