Annacia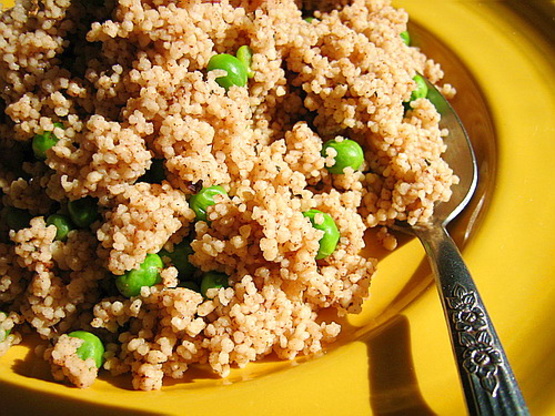 I got this recipe from the Rachel Ray Show. I make it with Pork Chops With Cherry Pan Sauce - a great combination that my family loved - my almost 14 year old daughter actually ate everything on her plate!! ;) Love or hate RR, Don't knock it till you try it.

Terrific dish! I served this with some grilled lamb steaks and the mint was a PERFECT accompaniment. Lamb and mint is always a winner winner dinner. A very nice recipe. Two thumb ups!
Heat 1 1/2 cups of the chicken stock and 1 tablespoon of butter in a medium pot with a tight-fitting lid.
Bring to a boil.
Once boiling, add the couscous, cinnamon, peas and salt and pepper to taste. Stir quickly to mix and take pan off the heat.
Let couscous stand covered for 5 minutes.
Fluff with a fork and stir in toasted almonds, parsley and mint.
Enjoy!