Simple Coconut Rice Pudding
Debbwl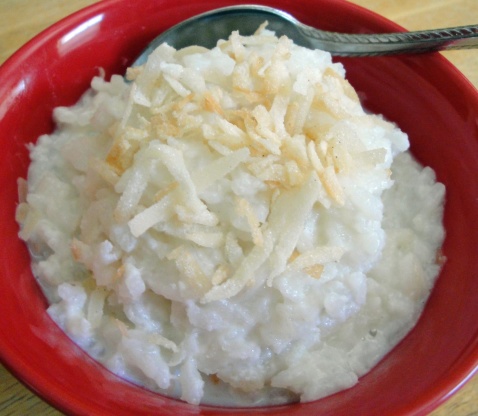 Coconut rice pudding is a popular dessert in the Caribbean. It's so popular that it is sometimes served for BREAKFAST! My kind of people! Here's a simple recipe for a tasty, creamy coconut rice pudding that starts with cooked rice.

Went to grab the bottle of coconut extract and the liquid had evaporated! What to do?! I know!<br/>Add equivalent amount of spiced rum! Yay! So yummy, creamy and easy to make! I tried demerara sugar for standard sugar and garnished the top of the pudding with additional sprinkle of demerara. Made for ZWT 9. Will post photo soon I hope!
Place cooked rice, whole milk, coconut milk, sugar, and salt in a 3 quart saucepan.
Bring to a simmer, uncovered, over moderate heat.
Simmer until the pudding has thickened; approximately 45 minutes. Stir frequently.
Stir in the coconut extract and let simmer for one more minute.
Serve the rice pudding immediately in dessert cups, while still warm.