Simple Chinese Chicken Salad
Nimz1466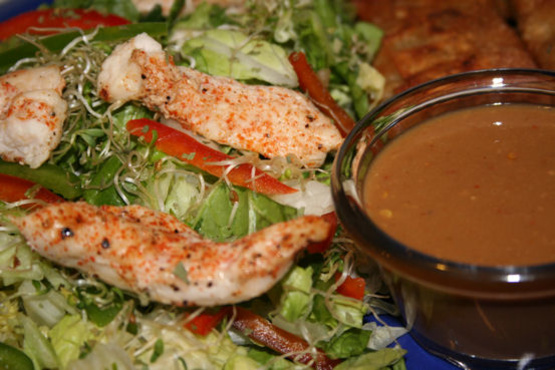 I was leafing through a low-carb magazine and came across this fantastic recipe. After making it with a few of my own adaptations, this is the final result.

This was very nice, the dressing was great! It made for a light and filling lunch, thanks for a great salad I'll most definitely make again.
For the salad

1

head cabbage

1

head iceberg lettuce

1

red pepper, thinly sliced

1

green pepper, thinly sliced
1⁄4 cup scallion, chopped
1⁄4 cup cilantro, minced
1⁄2 cup bean sprouts, rinsed and trimmed

2

chicken breasts, grilled or poached,then shredded

For the dressing

1⁄2 cup olive oil
1⁄2 teaspoon red pepper flakes

1

tablespoon no-sugar-added peanut butter
1⁄4 cup sesame oil

1

tablespoon sugar
1⁄4 cup rice vinegar
1⁄4 cup soy sauce

1

tablespoon fresh ginger, minced (I used a Microplane Zester)

1

tablespoon fresh garlic, minced (I just smash mine with the broad edge of my chef's knife)
salt and pepper, to taste
Shred the cabbage and the lettuce.
Combine with all the remaining salad ingredients in a large bowl.
Combine all the ingredients for the salad dressing in the bowl of a food processor.
Pulse until evenly blended.
Toss the salad with the dressing.