Simple Chinese Almond Cookies
Keilty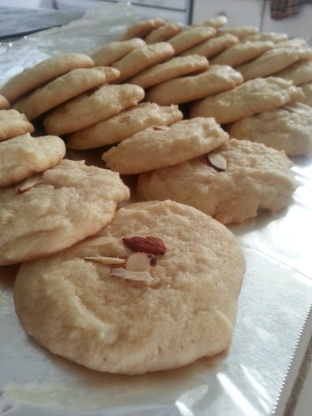 I like this recipe as it simply uses sliced almonds and is very simple to make. A nice soft cookie that stores well if kept in an airtight container.

these cookies are buttery delicious, I used 1 teaspoon each almond and vanilla extract other than that I made no other changes, I baked mine in a air convection oven just under 325 degrees for about 8 minutes, great cookies Hoks, thanks for sharing!
In a large bowl, cream together the butter and sugar.
Beat in the egg and extract.
Combine the flour, baking soda and salt together (I use a whisk) and then gradually add it to the creamed mixture.
Roll into 1-inch balls.
Place 2 inches apart on an ungreased cookie sheet.
Flatten with a fork. Press down 3-4 almond slices into the cookie (kind of on their side).
In a small bowl, beat egg white and water together.
Brush over cookies.
Bake at 325 degrees for 15 minutes or until edges and bottoms are lightly browned.
Cool for 2 minutes before removing to a wire rack to cool completely.