Simple but Scrumptious Split Pea Soup
CJAY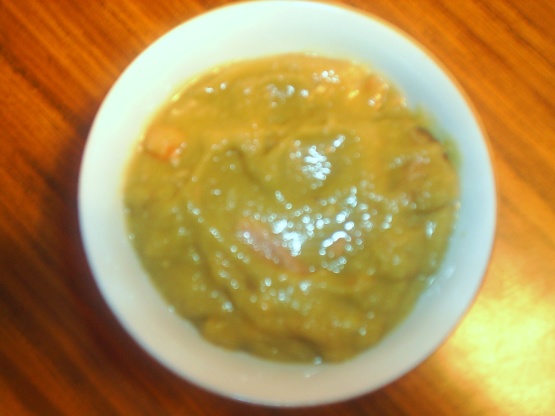 This is so easy..just wash the peas,dice the veggies, and toss in the pot with spices and ham hocks. (A meaty ham bone can be substituted for the ham hocks) Prepare early, simmer 4 hours, and enjoy. This gets better and better everyday after being in the fridge. This recipe came from an old church cookbook I found years ago. I recommend stirring the pot whenever you pass by the stove....it gets smoother and smoother with every stir.
Top Review by CJAY
We loved this soup! I used the ham bone from Easter but did everything else as written. I don't usually add potatoes to split pea soup but felt this was a nice addition. After simmering for 4 hours it was just perfect. Unlike some people, we don't like it so thick the spoon stands up in it by itself. The consistency was just right for us and we were all surprised it needed no more seasonings. It was perfect. Thanks for sharing. Made for PAC Spring 2010.
Rinse split peas to remove any soil.
Combine peas and all other ingredients in a large pot and bring to a boil.
Simmer, covered for 4 hours or more, until peas are thoroughly cooked,stirring often to combine the ingredients.
(You may add another cup of water if the soup seems too thick).
Remove the bay leaf and the clove(if you can find it).
Take out the ham hocks or hambone and remove the meat from the bone,and return the meat to the soup.
Serve and enjoy.