Simple Breakfast Potatoes
lazyme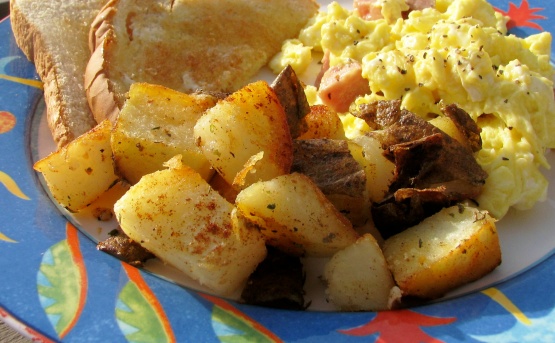 After yoga this morning I was craving a hearty breakfast and wanted restaurant style breakfast potatoes. I couldn't find a good recipe online for breakfast potatoes so I came up with my own. My boyfriend loved them and said they were really good served in combination with eggs over easy, turkey bacon, sliced apples and toast. I enjoyed mine with good-old ketchup and he had his with salsa. Try playing with the spices in your cupboard if you don't have the basics that I had stocked. Next time I might try a sprinkle of cayenne pepper to spice it up a bit. This recipe could serve 4 hungry people.
Place chopped unpeeled potatoes in a big pot and fill with water to about one or two inches above potatoes.
Bring to a boil and simmer on medium heat for about 20 minutes or until tender.
Drain potatoes.
Heat olive oil in a skillet on medium heat.
Add potatoes.
Add Seasonings.
Saute until crispy 5-10 minutes.
Serve with your favorite style of breakfast eggs and enjoy!