Simple Bliss Relaxing Tea (Single Serving)
Rita1652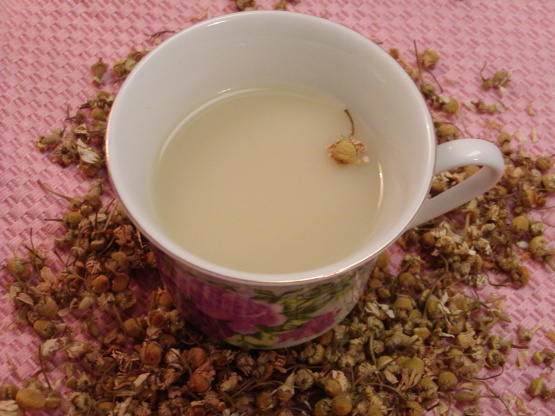 from www.care2.com. You don't have to use the exact ratio of water-to-milk listed here, just do it to taste. If you'd like to make a larger quanity, use 1/4 cup chamomile per cup of tea you are making.

Fantastic and SO relaxing! I used soy milk and honey for a real treat. Thanks, Roosie, I'll make this often!
Pour boiling water over the chamomile flowers.
Let steep for 15-20 minutes, until strong.
At this point it may be a little cold (especially since you are going to be adding cold milk in a second), so I would reheat it in a saucepan or for a few seconds in the microwave.
I find that reheating once the milk has been added gives teas/coffee a funny taste, so I usually make sure to reheat before I add the milk, but its really up to you.
Strain and add milk and sweetener to taste and serve hot.