PaulaG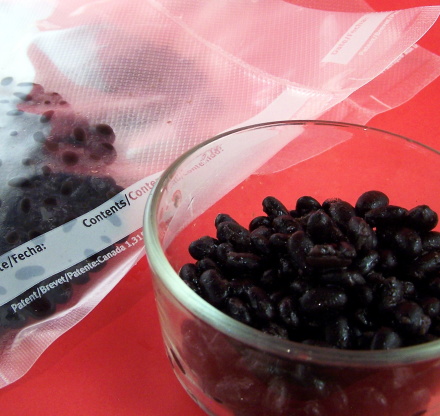 This recipe was published in the October 2007 issue of Cuisine at Home. I found a bag of black beans in the pantry and thought this sounded like a wonderful alternative to canned black beans. This recipe can be prepared, frozen in 1 cup size packages and then defrosted and used whenever a recipe calls for canned black beans. These are far superiour in texture and flavor to canned beans.

I used the smaller amount of thyme and thought it was WAY to much. Also, the beans came out really cloudy looking?
In a large pot, saute onion in oil over medium-high heat until the onion is soft, about 5 minutes.
Add the garlic and thyme; cook until fragrant, 1 minute.
Add the drained beans, bay leaves and enough water to cover beans; bring to a boil over high heat, reduce temperature to simmer, cover and cook for 40 to 50 minutes or until beans are tender but not mushy.
Check often and add from 1 to 2 cups additional water if beans start to cook dry.
Drain beans, remove the bay leaves and fresh thyme springs, season with salt and pepper to taste.
Please note: Do not salt before the beans are cooked. If they are salted before they will not soften.
When cool, divide into 1 cup servings and freeze in rigid container or vacuum pack in small bags.