Kiwiwife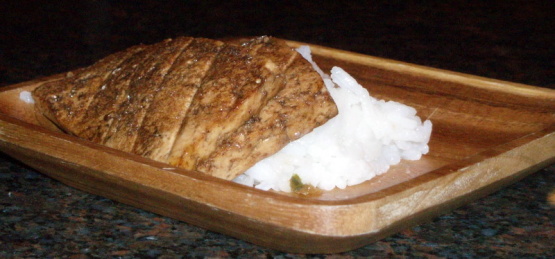 Obtained from my favorite vegetarian website. Tofu is healthy and tasty! Don't let it scare you away. Grill or bake and serve over rice. You can also serve them in stirfrys or salads that call for seasoned tofu. The seasonings are given in VERY generous amounts so reduce them if you desire a milder taste. Considering the amount of salt in the soy sauce, you can completely omit the salt if desired.

I had really hoped that I would like this, but it was so extremely salty I threw the entire batch away. If I made again, I would not use any salt.
Cube tofu.
Mix all ingredients into a large bowl.
Let marinade in the fridge for about one hour.
Preheat oven to 350.
Place tofu on a cooling rack with a baking pan underneath to catch excess liquid.
Bake for 10 minutes, turn tofu and bake for another 15 minutes, or until the edges start to brown.