Simple Apple Spice Dump Cake
Prep 10 mins
Cook 45 mins

I found this on a yahoo group that I belong to, and thought it sounded good. Looks simple enough.
Directions
Preheat oven to 350 degrees F.
Pour the apple pie filling into a 13 x 9-inch baking pan.
In a small bowl, mix together cinnamon, nutmeg, allspice and sugar.
Sprinkle mixture over pie filling.
Pour dry cake mix over apples.
Dot with butter and sprinkle nuts on top.
Bake at 350 degrees F for 45 minutes to one hour, until cake is brown on top and bubbling on the sides.
Serve warm with ice cream or whipped topping.
Reviews
Most Helpful
Oh my This is special. Just took it out of the oven a while ago and had a small piece with my DH. We both agree that while not being the CAKE we were expecting, Did get something between a crustless French Apple Pie and Strudel. Nicely done Kristen, and while this will be on our do it again list, it is best taken in small pieces as it is very rich.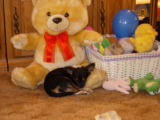 Delicious and easy apple cake! I made half of the recipe in an 8x8 pan and used walnuts on top. Sweet and spicy and very tasty - thanks for sharing the recipe!

TOOO sweet. TOOO much spices. This would have been better without the added spices to the cake mix. Second, store bought cake mix is salty to us. We prefer homemade cake mix with out all the added chemicals and junk. Usually desserts disappear around here, this one has lingered on the counter for 3 days! I say that makes a fail. I followed this recipe exactly!