bakingmama83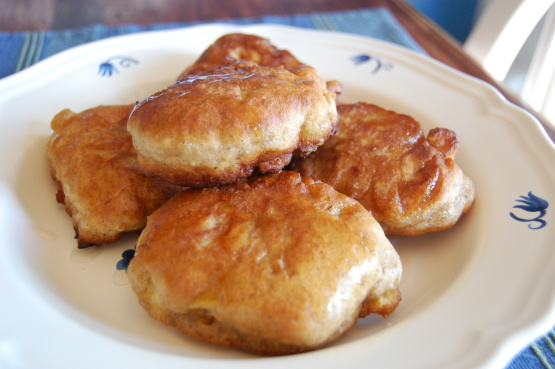 These delicious fritters were made weekly by the school cafeteria cook who, "after hours" let me sample them ...ummmmm so good and easy to make. I never want to lose this recipe! Try them they're nice with a pork dinner .. but my family loves them for dessert...you decide.

My students tried this recipe for an art fair at our school. Here are some of their comments. "They were good." - Andrew "They were excellent." -Kathryn "They were crunchy." -Storm "They were the best things I've ever tried." -Justin
Measure and sift all dry ingredients.
Beat eggs and milk together; slowly incorporating the dry ingredients.
Add the chopped apples.
In a heavy skillet on the stovetop, heat cooking oil over medium-high heat.
Drop teaspoon full of apple-batter into hot oil and fry until golden brown in color- 3 to 4 minutes on each side.
Remove from oil and drain on brown paper.
Cool and sprinkle with powdered sugar.
Makes 12 small fritters.
Eliminate the sugar and serve with pork roast.