Derf2440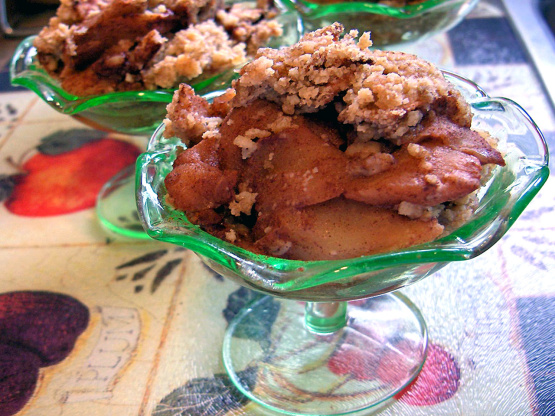 I found this scribbled inside a book dated 1916 in my grandma's attic. It's still a bomb dessert after all these years.

I'm very impressed with this simple, yet scrumptious dish. I make it with splenda (sugar substitute) to cut down on the carbs and it tastes great. A hit with everyone I've served it to. I've made it about 4 times now with granny's, fuji's, red delicious and braeburn apples and each time it's turned out well.
Pre-heat oven to 350°.
Placed sliced apples in buttered 8x8 pan.
Add spices, lemon juice and water.
In separate bowl, mix butter, sugar and flour until crumbly; sprinkle on top of apples.
Bake for 1 hour or until top is golden brown and apples are tender.