Simple and Easy Roast Chicken
tcoster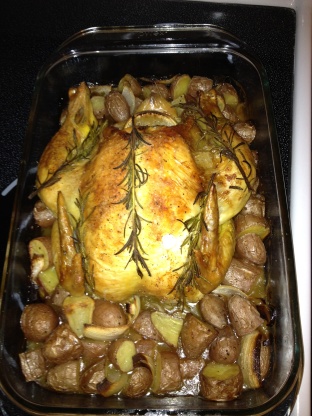 Simple and delicious. Enjoy!

Preheat oven to 475°F.
Wash chicken and pat dry with paper toweling.
Coarsely chop the bulb of garlic (don't bother to peel cloves).
Remove rosemary from 4 of the stems and chop coarsely; reserve the rest for later.
Chop lemons into quarters.
Put chopped garlic, chopped lemons and the chopped rosemary into the chicken's cavity.
Rub the chicken skin generously with the butter or olive oil and season with salt and pepper.
Place the chicken on a rack in a roasting pan and tuck remaining rosemary stems on the chicken, around wings and drumsticks.
Roast chicken in the preheated oven for 15 minutes.
Decrease oven temperature to 375F and cook for 60-75 minutes more or until the juices of the chicken run clear (time depends a lot on weight).
Allow chicken to sit at least 15 minutes before carving.
Garnish with more fresh rosemary before serving, if desired.