Simple and Delicious Meatloaf
flower7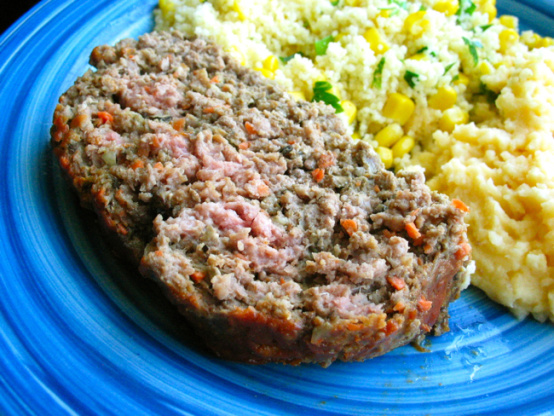 I'm always trying to find a way to add extra vegetables to my families diet for a healthier bite, even if I'm serving meatloaf.

Excellent meatloaf! I made a couple small changes and one addition - left out the celery and because my bread slices were pretty big, I only used two; also added a barbecue sauce glaze to the top before baking. Instead of a cookie sheet, I used a 13x9 glass baking dish. This was great with mashed potatoes and couscous but will also make excellent meatloaf sandwiches later! Thanks for sharing! [Editing to add: The photo looks a little pink, but it was definitely cooked through, according to the thermometer :) ]
Preheat oven to 350.
Individually process carrot, mushroom, celery, and onion in a food processor until pieces are ground fine. Add to mixing bowl.
Process three slices bread into crumbs and add to bowl.
Add ground beef, Worcestershire sauce, salt, pepper and eggs.
Combine well with hands.
Form into loaf on a cookie sheet.
Bake for 1 hour - 1 hour 20 minutes (until the center is no longer pink)
Let cool for 15 to an hour.
You can serve this right away or cut into thick slices and fry on the stove top for an extra crunchy-licious crust.