Simple All in One Breakfast
ImPat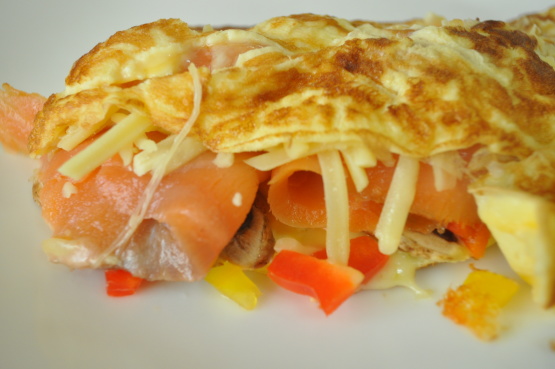 This is a great camping or campfire recipe. I also make this at home as I had this breakfast at an old time family run restaurant. I couldn't get the recipe but this tastes close and DH said it is great. You can sub in ingredients that you normally would use or follow the recipe. I like the versatility. I have made it several ways now so will list some varied ingredients at the end. This is an easy recipe to make into a 1 person or 10 person recipe. I imagine it could also be made larger but I have yet to do more than 10 guests for breakfast since making this.

Top Review by ImPat
I decided to go with my own ingredients and use some left overs from pizza night so into it went red and yellow capsicum/bell peppers, mushroom, smoked salmon and gooey mozzarella, sharp cheddar and aged parmesan pizza cheese mix. Made for a filling and great breakfast, thank you Chef1MOM-Connie, made for the Aussie/Kiwi Recipe Swap #57 October 2011.
4

eggs
1⁄4 cup milk
1⁄2 cup shredded cheese (I used provolone or cheddar- but your choice)

1

pinch cayenne pepper
1⁄4 teaspoon pepper

1

cup shredded cooked potatoes or 1 cup home fries
1⁄2 cup diced onion
1⁄2 cup diced bell pepper (green, red, or yellow, or mixed)

1

cup salsa (heat is your choice) (optional)
In a bowl whisk eggs, milk, and cayenne and black peppers together.
In the meantime--In heated and oiled (medium heat) skillet put potatoes, green peppers and onions and let warm about 5 minutes.
Pour egg mixture over potatoes and let cook a minute or two til beginning to set. Fold over eggs ( a soft scramble).
Add in cheese, I just sprinkle over top, Let melt over egg mixture and then fold over a time or two.
Put onto warmed plates and serve with salsa.
OPTIONS:.
diced ham, cooked sausage, leftover steak or chicken, polish or italian sausage, any leftover meat can be used.
Broccolli, asparagus, baked beans, red beans, tomatoes diced no juice though,
The sky is the limit.