Simple 1-2-3 Marinated Vegetable Salad
Bayhill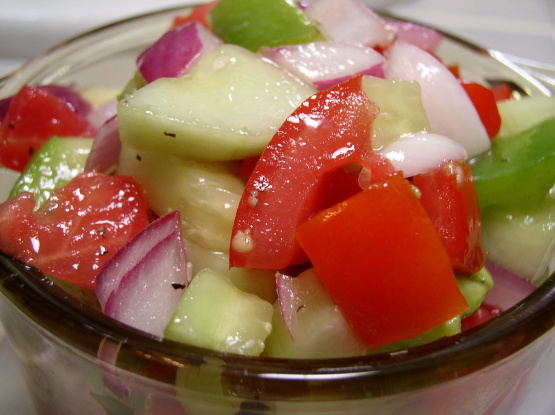 This is a simple and delicious change from cucumbers in vinegar and makes a great vegetarian snack or side dish. It's also great in that it requires no cooking at all! I make this all Summer long and have some whenever I get the 'munchies'. A friend used to serve this to me when I lived in Arkansas and I've never forgotten how to make it.
Delicious!! This salad was perfect for using up the abundance of tomatoes, bell peppers, cucumbers, and onions that my garden was producing. The dressing was seasoned perfectly ( I did add 1/2 tsp. black pepper) and added a wonderful flavor to this light and refreshing salad. I will be making this salad often this summer. My family loved it! Thank you for sharing this recipe...it is definitely a keeper.
Make the dressing by combining all the dressing ingredients in a small bowl.
Whisk until the sugar is dissolved.
Set aside.
To make the salad: Place all the chopped vegetables in a large bowl with a lid and pour the dressing over all.
Use a wooden or plastic spoon to gently stir so that the dressing coats all the vegies and everything is well mixed.
Cover and chill at least six hours before serving, stirring at least every hour.
When ready to serve, let salad stand at room temperature for 5 minutes.
This is easiest to eat when served in a bowl and eaten with a spoon.
Be sure to get plenty of the juices into each bowl.