Simmering Sunday Lamb Stew
Acerast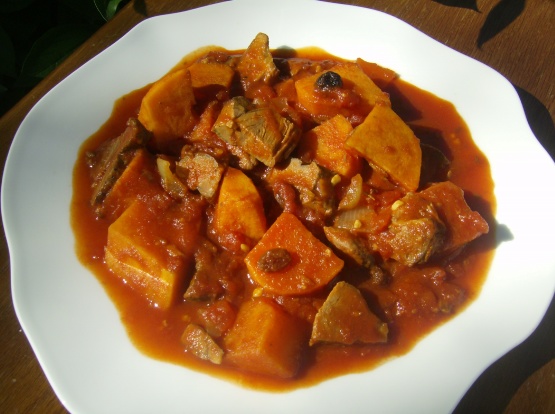 A yummy way to use up leftover lamb. Perfect for a lazy Sunday supper.

Delicious and exotic! My family usually eats lamb Greek style with olive oil and lemon, or a more Irish-style so this lamb stew with curry was quite a change! You've opened up a whole new chapter of cooking - I'll not be so frightened of curries ever again ;) Thanks Auntie Mags. Reviewed for Ali Baba's Babes for ZWT5.
Heat olive oil in bottom of dutch oven on med-high heat.
Add ginger, garlic and cooked lamb and stir until lamb is heated through.
Add all other ingredients and stir well.
Cook over medium-low heat for 2 hours, or until onions and sweet potatoes are soft.
Taste and adjust herbs and spices according to your preference.
Serve with crusty bread and a rich Cabernet Sauvignon (grape juice for the kids!).