Simmered Pork with Mustard-Caper Sauce
vrvrvr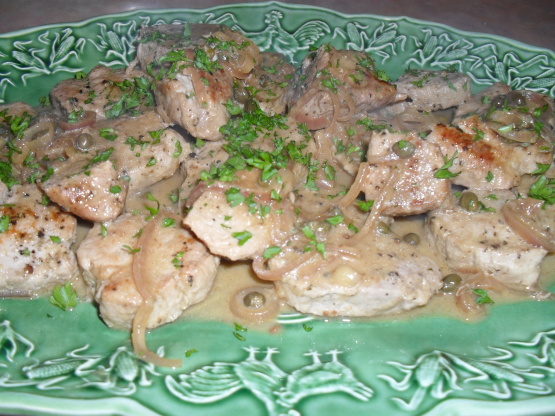 Pork can be an easy and elegant weeknight supper. Don't forget the red wine!

Top Review by P48422
Wonderful, S'kat! I didn't change anything, but I did use salt-cured capers, which I soaked then drained. The other addition I made (just a personal preference) was 2 tbl. heavy cream at the end to the sauce. Otherwise all the same. Very simple and quick to prepare, and very tasty! No leftovers at all. I served it with rice pilaf and some glazed carrots. Thanks for the quick recipe!
Flatten pork rounds using meat mallet, then season with garlic powder and black pepper.
Heat oil over medium high heat.
Add pork to pan and saute until browned, and almost cooked through (a couple of minutes per side).
Remove pork to holding plate.
Add shallots to skillet, and saute for 1 minute.
Add chicken broth and wine: boil until sauce has reduced and is thick enough to coat the spoon (about 10 minutes).
Mix in capers and mustard.
Return pork to pan.
Simmer until pork is heated through again.
This goes very well with small new potatoes and a lovely, fresh Caesar salad.