JustJanS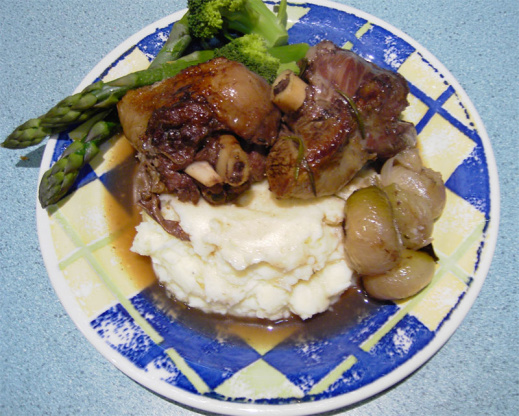 Tasty lamb dish,using an economical cut of lamb.

Top Review by Lorac
Fork tender lamb in a beautifully balanced wine and herb sauce. I loved the bay leaf, rosemary and majoram combination. The only thing I changed was to reduce the amount of peppercorns to 1 tsp and I added 2 quartered potatoes during the last 45 minutes of cooking. I browned the lamb in my Le Creuset dutch oven and deglazed the pan with the red wine before adding the remaining ingredients. This was so easy to prepare and tasted like it came from a gourmet restaurant. Thanks Evie* for another delightful recipe.
Place a frypan over high heat.
Add the shanks and cook for 2 minutes on each side or until well browned.
Place the lamb in a baking dish with the stock, wine, bay leaves, garlic, onions, rosemary, marjoram and peppercorns.
Cover dish and bake at 315F for 2 hours or until lamb is very tender.
Serve in deep bowls.
Lovely with a garlic/potato mash.