Simit (Turkish Bread Rings)
Syrinx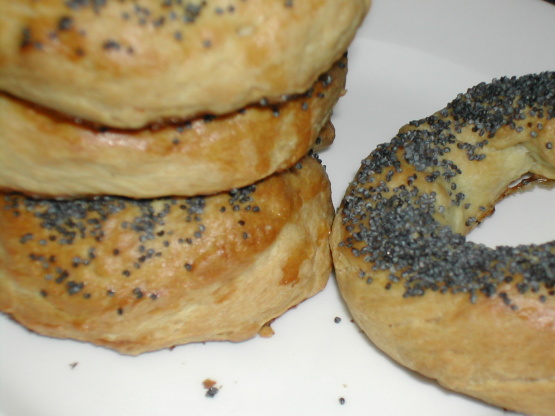 Simit is a ring-shaped unleavened bread, which is a popular street food in Turkey. The recipe comes from "The Country Kitchen" by Jocasta Innes, but I use butter instead of the recommended margarine, and sometimes substitute poppy seeds for the recommended sesame seeds.

I have never had simit before, so I have never experienced the consistency as it is meant to be, but I agree with the previous reviewer's assessment of this recipe as producing something more akin to a shortbread. The rings certainly turned out and worked fine for our purposes, but after a bit of googling, it seems this recipe is not very true to the traditional way of making simit. To be fair, it may be a regional variation, but I think I'll be trying a different recipe next time. Made with Turkish red lentil soup.
Preheat the oven to 400F (200C).
In a bowl, mix the flour and salt together, and make a well in the middle.
Melt the margarine/butter, then mix with the oil, milk, water and egg.
Pour the egg mixture into the well in the flour, and mix well to form a dough.
Shape the dough into rings about 4" in diameter.
Grease baking sheet, and lay the rings on it.
Brush the rings with milk and sprinkle with sesame seeds.
Bake in the preheated oven for about 30 minutes, or until golden brown.
I think these are best eaten hot or while still warm.