Silverbeet (Swiss Chard ) Pie Aka " Grass Pie"
Jubes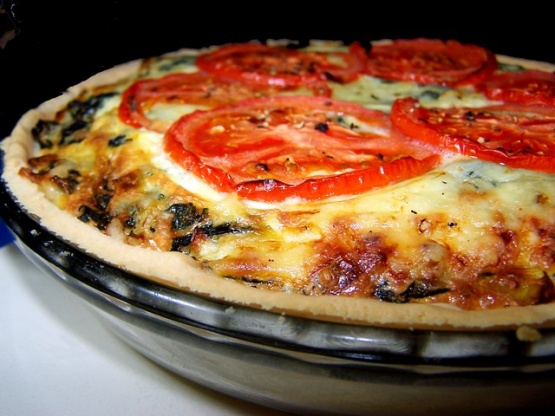 A great pie to add silverbeet to your diet. Even my children enjoy this open pie. You can use pre-made pie crusts or frozen shortcrust pastry sheets as the pie shell. It even turns out OK without a pie shell at all! I've made this pie gluten-free by using ChristinaCeline's Pastry Recipe for Pie Crust - Gluten Free as the pie crust and you dot need to grease the pie dish or cook the pastry shell before filling. I use light ricotta cheese and light cheddar in my pie to reduce the fat content- you can use the full versions if you wish. You can also add in some cooked diced bacon or ham pieces with the silverbeet if desired or add in some sliced chillies if you like some heat in your pie. My youngest daughter has now renamed this pie " Grass Pie" :)

Yum!! I was looking for a new way to prepare chard, and this was a real winner for us. And...gasp!...my kids ate it, too! I'm sure it had nothing to do with me telling them that people who eat rainbow chard can see rainbows better ;). I agree that the chard needs to be squeezed well; I did and the egg mixture was moist enough I can see how any more liquid could cause a problem. I made this with I'mPat's shortcrust pastry recipe and strained/pureed cottage cheese for the ricotta. Thanks for posting!
Heat oven to 400°F ( 200°C ) 15 to 20 degrees less if using a fan-forced oven.
Heat the olive oil in a non-stick frypan and add the garlic and chopped leek. Cook on a gentle to medium heat until the leek has softened. Set aside to cool.
Remove the course stems from the silverbeet and just use the green leaves. Chop them roughly and add the whole bunch to a large saucepan. Add 1 cup of water. Cook over a medium heat with the lid on until the spinach has steamed and wilted down. Do not overcook the spinach- it should only take a few minutes to this point.
When the silverbeet has wilted - strain it as much as possible and place on a clean tea-towel. Wrap the silverbeet in a clean tea-towel and squeeze out as much liquid as possible. Chop the silverbeet finer if desired and add it to a large mixing bowl.
Add the cooked leek mixture, eggs, cheeses, salt and pepper to the silverbeet. Mix and pour into the pie shell.
Decorate with the sliced tomato and sprinkle over some more cracked black pepper and salt.
Bake in the oven approx 40 minutes or until set through. Remove from the oven and allow to rest for 5-10 minutes before serving. Serve with a salad or more veggies on the side.