Silly Easy Chocolate Creme De Menthe Pudding
Annacia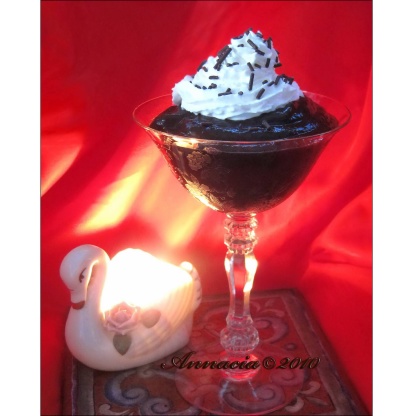 I was making up a box of sugar free pudding and spotted the bottle of creme de menthe on the shelf. It wouldn't let me ignore it and I thought 'hmm, I wonder' and added a bit into the mix. It worked and turned normal chocolate pudding into something lush tasting. I could see it being the base of easy 'grown up' parfaits and that sort of thing too.

First, I need to say that I'm a chocolate pudding lover and have always been :D. This is a real delight. Not only is it silly easy It's also delicious and is makes that box of "diet" pudding feel quite indulgent and even a bit elegant. You just have to love chocolate mint and this is a perfect way to enjoy it. :D
Pour 2 cups of cold fat free milk into large bowl.
Empty chocolate pudding powder into milk and use a wire whisk to just combine.
Add in the creme de menthe and then whisk for 2 minutes until all lumps are gone.
Cover and put into the fridge for 5 minutes. It should be set but if not just give it another couple minutes.
Serve.