Vicky S.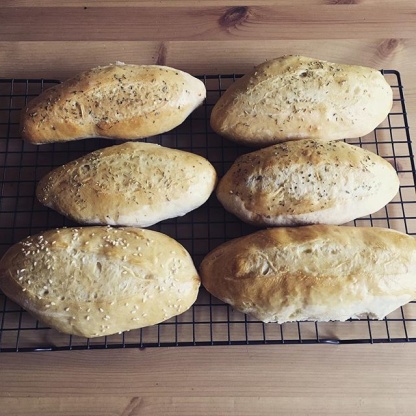 These accompany any dinner and make a great panini for sandwiches.
Easy and fast to put together. I rolled them into mini-footballs by rolling into balls first, flattening the ball to a rectangular shape, then gradually tucking the seam until a short log was formed. Then rolled the log under my palms until I got my desired shape. I tried 3 toppings; rosemary, italian seasoning, and sesame. They came out great!
Stir together the water, yeast, and sugar.
Set aside until the yeast blooms, about 5 minutes.
Place 3 cups of the flour and the salt in a mixing bowl.
Add the yeast mixture and the oil, and stir to form a sticky dough.
Knead, adding the remaining flour a little at a time, until the dough becomes a smooth, elastic ball, about about 5 to 8 minutes.
If you use an electric mixer, combine the ingredients with the paddle attachment and then change to the dough hook.
Add the flour, a little at a time, until the dough is smooth and comes away from the sides of the bowl, about 2 to 4 minutes.
Turn the dough into a lightly oiled bowl and cover with a dry cloth or plastic wrap.
Let rise in a draft free spot until doubled in size, about 30 minutes.
Preheat the oven to 400 degrees.
Once the dough has risen, lift it out and cut into 8 equal balls.
Shape into flat 5-inch rounds for buns, or 6-inch oblongs for a hero- or hoagie-style rolls.
Place on a lightly oiled baking sheet and cover with a dry cloth.
Let rise in a draft free spot for 30 to 45 minutes.
Gently glaze the buns with the egg and sprinkle with the sesame seeds, if desired.
Bake for 10 to 12 minutes, until golden brown.
Transfer to a cooling rack until ready to use.