mikey ev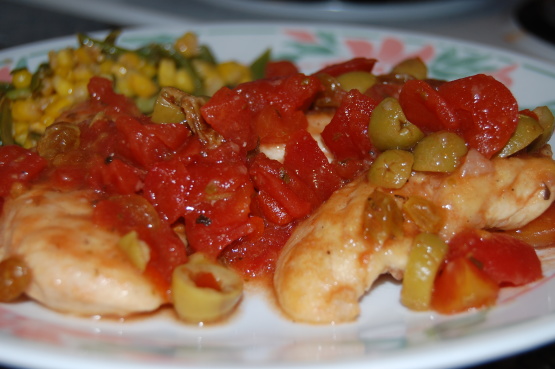 This is from Cooking Light. This dish is very well balanced - a good mix of salty, sweet, and acidic. We used chicken tenderloins and Spanish olives with pimentos, but otherwise followed the recipe to a T. The prep is super easy and this meal is done in no time!

I noticed that Robin Miller did the recipe for Cooking Light, and it is also available in her cookbook, "Robin to the Rescue". The differences are that she ups the flour to 1/4 c., and also suggests dry vermouth or white wine. I didn't have golden raisins, so I just used the regular dark raisins. I didn't have no salt added tomatoes, so I cut back on how much I seasoned the chicken with salt. I used Noilly Prat vermouth so I didn't have to open a bottle of white wine. I added it to pasta. I would have loved a thicker sauce. I am tempted to blend 1/3 of it next time. Great flavours, especially the mix of salty and sweet.
Place each chicken breast half between 2 sheets of heavy-duty plastic wrap and pound each breast half to 1/2-inch thickness using a meat mallet or heavy skillet.
Sprinkle both sides of the chicken with salt and pepper.
Heat oil in a large nonstick skillet over medium-high heat.
Place flour in a shallow dish; dredge chicken in flour.
Add chicken to pan; cook 3 minutes on each side or until lightly browned.
Add wine; cook 1 minute.
Add olives and the next 4 ingredients (through tomatoes); bring to a boil.
Reduce heat, and simmer 8 minutes or until chicken is done.
Sprinkle with basil.