Bergy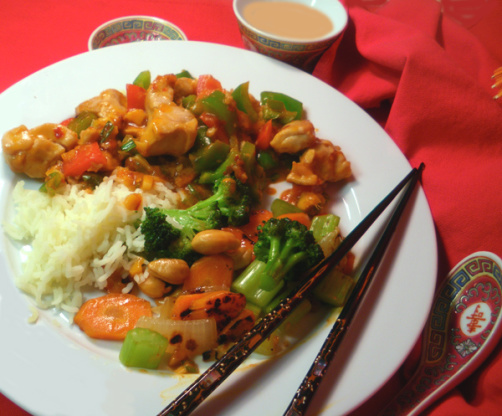 This tasty recipe is from a Sichuan restaurant in Anshan, China where I taught ESL to Chinese children.

A complete success. Mr. Grumpy turned to me after a few bites and asked where I got this - he thought I had bought it at one of the local Chinese restaurants. And he asked for seconds, which is nothing short of a miracle. I did use pork blade chops instead of chicken, because I had some to use up. I also added some julienned carrots with the onions and red bell pepper. This is as good as anything I learned during my nine months of Chinese cooking lessons.
1

tablespoon soy sauce
1 1⁄2 teaspoons dark soy sauce
1 1⁄2 teaspoons cornstarch
1 1⁄2 lbs boneless chicken breasts, diced into 1-inch cubes
1⁄2 cup ketchup
1⁄4 cup chicken broth

1

tablespoon chili-garlic sauce

2

teaspoons sugar

4

teaspoons vegetable oil

2

teaspoons ginger, minced

2

teaspoons garlic, minced

2

teaspoons green onions, minced

10

dried red chilies

1

jalapeno, stemmed, seeded and thinly sliced

1

red bell pepper, stemmed, seeded and thinly sliced

1

cup yellow onion, sliced

2

teaspoons toasted sesame seeds

1

teaspoon sesame oil

1

tablespoon fresh cilantro, chopped
In a medium bowl, combine the soy sauce, dark soy and cornstarch. Whisk to blend well, and add the chicken to the sauce. Toss to evenly coat the chicken and set aside for 15 to 20 minutes.
In a medium bowl, combine the ketchup, stock, chili garlic sauce and sugar. Stir to combine and set aside until ready to use. Place a wok over high heat and add the vegetable oil to the pan. Swirl the wok to be sure to coat well with the oil. Add the ginger, garlic, green onions, dried chilies and jalapenos to the wok.
Cook, stirring often until the garlic is fragrant and the chilies begin to brown, about 20 to 30 seconds. Add the chicken, bell peppers and onions to the pan and stir-fry until the chicken is no longer pink, about 4 to 5 minutes.
Add the sauce to the pan and bring to a boil, being sure to toss well in order to coat all the chicken and vegetables evenly, about 1 to 2 minutes. Sprinkle the sesame seeds, sesame oil and cilantro into the pan and toss to combine. Remove from the heat and serve on a platter with steamed white rice.