Siamese Chicken Drumettes
ImPat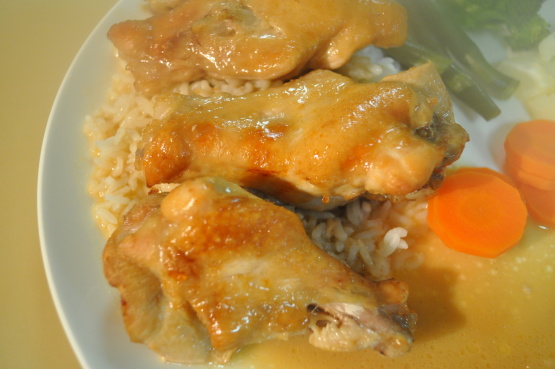 This recipe originally came from Better Homes and Gardens. Our DIL Leah made it for our dinner last night-this is her recipe with modifications. BH&G say it is great for a picnic, or can be served as a delicious starter. We ate it as a main with a salad. I'm tempted to serve rice or noodles with them with the remaining sauce spooned over them too rather than waste it as BH&G suggest. Drumettes are the wings with the tips removed, so they're like mini drumsticks.
Preheat oven to 200°C.
Whisk the coconut cream, soy, lime juice and curry paste and pour into a baking tray.
Add the chicken and toss to coat well with the sauce.
Bake for 30 minutes.
Drain off most of the liquid reserving remainder. Tipe drummettes onto a serving platter and scatter with shoots, cashews and herbs.
Skim a bit of fat of the cooking sauce and pass it at the table for those who'd like extra.