Shu Cream (Japanese Cream Puff)
Pneuma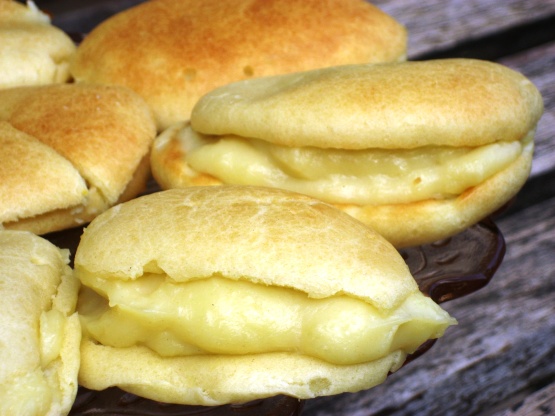 This is my modified version of the great tasting Shu Cream recipe (Japanese Cream Puff) that I got at About.com. Yum! *You can also use your own cream puff pastry and just use the custard cream I have here!

Top Review by PKG178
I didn't want to give a full review, as this is only for the custard filling. Oh boy, oh boy. This stuff is FANTASTIC by itself. It was delicious right off the stove and even better after sitting in the refridgerator overnight. I just had some by itself in a bowl. I added a pinch of salt and a little bit less than the sugar called for. I will give it proper(5! just based on the filling alone! ) stars once I make the cream puffs! Thank you!
For the cream puff pastry:.
Preheat oven to 375°F.
Beat eggs in a bowl. Set aside.
On a pan in low heat, mix butter, sugar, and water. Bring to a boil.
Bring back to low heat. Add flour and mix really quickly.
Turn off heat. Add eggs and mix very well.
Put mixture in a bag.
Squeeze in mounds of 10-12 on wax paper lined pan.
Bake for 20-30 minutes until the tips are a little brown.
Cool puffs on rack when done.
For the custard filling:.
In a pan, mix eggs and sugar.
Add the flour and mix well.
Add warm milk gradually. Put on stove in low heat.
Stir constantly until it thickens.
Remove from heat. Melt butter and mix very, very well.
Cool custard.
If you have the injection, fill it with the custard cream and fill the puff pastry. If not, slice the puff pastry in half and fill lower half with the cream custard. Dust top with powdered sugar, if desired.
Enjoy!