'Shrooms and Sausage Dressing
Mercy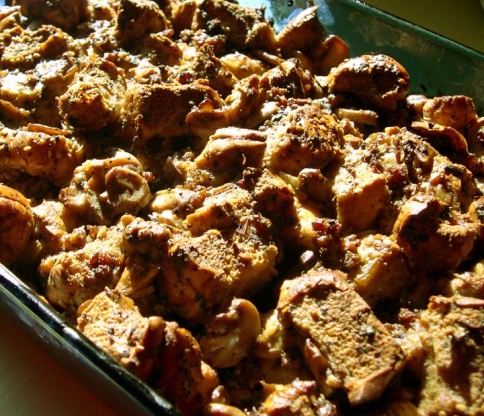 This recipe is a holiday tradition for my brother's former in-laws. He may of parted ways with his wife and most of his worldly possessions, but at least he got to keep this delicious recipe! All holiday dishes should be this simple and scrumptious!
1

loaf bread (stale and dry works great)

1

lb bulk sausage, browned and drained

1

cup onion, diced and sauteed

2

(7 ounce) cans canned mushrooms (don't bother draining the liquid)

2

cans condensed mushroom soup

2

eggs, lightly beaten

2

cups chicken broth or 2 cups turkey broth (we use the giblet/neck broth from the turkey)
salt and pepper (it may not need any additional seasoning if using a spicy sausage)
Tear or cut the bread into smaller chunks.
I tear each slice into quarters or fifths--my grandmother, a dressing master, always said that in order to make a good dressing the bread should always be torn and never cut.
Mix all the ingredients together.
Pour into a casserole dish and bake at 375°F for 1 to 1 1/2 hours.