ChefLee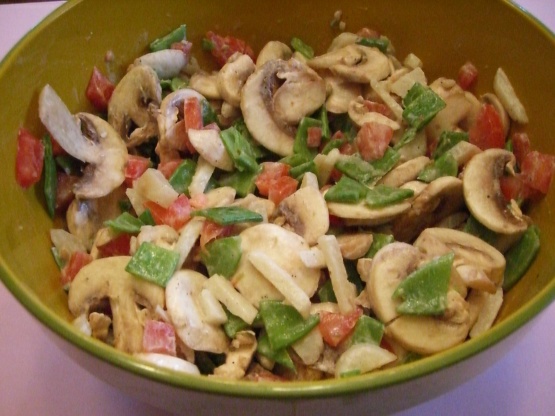 Living in the desert, during the summer all you want to eat is cold food like salad. I made up this salad with some of my favorite veggies and ingredients. I hope you like it too!

Chef, This is an EXCELLENT combination of flavors. Thanks so much for sharing. We will make this again and share with others. I made this salad Friday evening for just the 3 of us and had leftovers which we used Saturday night with some fresh arugula from the garden. It kept very well, the 2nd day I added a little more dressing and it was great. I used 1/2 of the honey because we don't like sweet dressings and I did add more lime juice to taste. Thinly sliced celery also was a nice addition. Made this for Spring 08 PAC.
Place mushrooms, snow peas, water chestnuts, and tomatoes in a large bowl.
In a medium bowl; mix lime juice, pepper, rice vinegar, honey, sour cream, and oil.
Whisk sour cream mix together well to get any lumps out and make it smooth and creamy.
Pour sour cream mix into mushroom mix and toss to coat.
Chill then enjoy!