Shrimp With Sun-Dried-Tomato Barbecue Sauce
teresas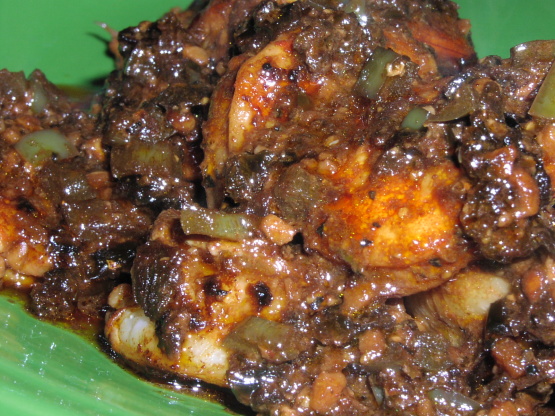 This is a spicy shrimp dish that goes great with crusty bread to sop up all the sauce. The recipe has a recommendation to serve it with either beer or an Italian Frascati wine. This was given to me by my father's receptionist out of one of her favorite cookbooks (sorry, I don't know the name of it). If I want to save time, I will add pre-cooked shrimp to the sauce and heat them through. This lets you skip the oven step completely.

Verrry interesssting! I just loved the smell while preparing this dish. This is full of yummy stuff. It has a nice bite to it. Wasn't to sure what to serve this with so made a nice noodle dish as a side. recipe #248305 went very well with it. Thanks JuliJ for posting. Made for PAC spring 08'
Preheat oven to 425.
Put the sun-dried tomatoes, Worcestershire sauce, lemon juice, and salt into a blender. Blend to a coarse puree.
In a medium saucepan, heat the oil over low heat. Add the garlic, jalapeños, and ginger and cook, stirring, for 3 minutes. Add the chili powder and black pepper and cook, stirring, for 30 seconds longer. Add the butter and melt. Remove the pan from the heat and stir in the tomato mixture. Add the shrimp and stir to combine.
Put the shrimp and sauce in a 9-by-13-inch baking dish in an even layer. Bake the shrimp until just done, about 11 minutes.