Jubes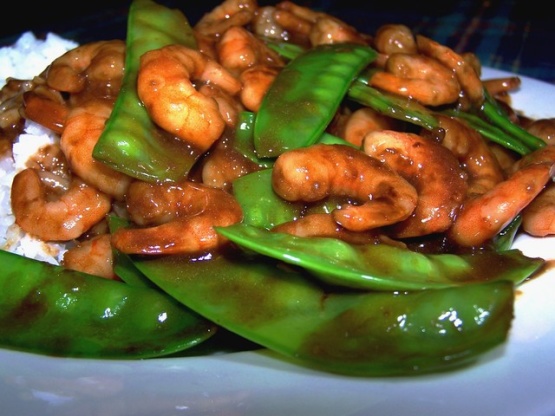 Another quick stir-fry from Chinese Cookery.

Not a bad recipe at all, for my tastes though it needed twice the garlic, and I will double the fresh ginger next time in the marinade as well...
Shell and devein shrimp.
Rinse and pat dry with a paper towel.
Combine marinade ingredients in a ziplock bag.
Add shrimp.
Mix well.
Let stand 30 minutes.
Pat dry with a paper towel.
Heat oil in a wok 30 seconds over high heat.
Stir-fry garlic until golden, 30 seconds.
Add shrimp.
Stir-fry about 30 seconds until shrimp are pink.
Remove from wok with a slotted spoon, draining well over wok.
Add salt and snow peas to oil in wok.
Stir-fry until sauce thickens slightly.
Add cooked shrimp.
Stir-fry to coat shrimp with sauce.
Serve hot.