PaulaG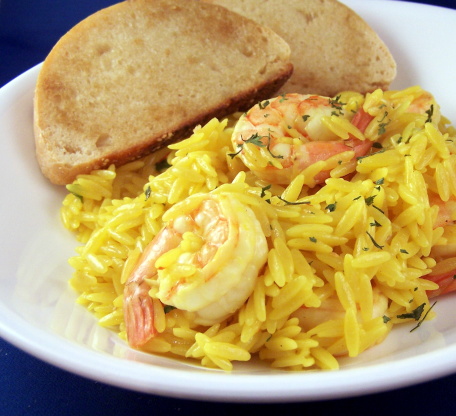 Please don't omit the saffron. I know it's expensive, but it makes a difference.
Top Review by PaulaG
Definitely a recipe well worth the saffron. The recipe was reduced to 2 servings and instead of cooking the shrimp in a separate pan, it was added the last few minutes to the pasta. The pasta really didn't need draining as the broth was absorbed by the end of the cooking time. Not having fresh parsley, I added fresh basil. As I said, definitely worth the saffron. *PAC September 2007*
On high heat, bring broth to a boil.
Reduce to low and simmer and add saffron.
Return to boil and add orzo. Cook until tender (about 10 minutes).
Drain orzo and add 4 tablespoons oil, salt, pepper, juice of half a lemon and parsley. Mix and set aside.
Toss shrimp with salt, pepper, and remaining lemon juice.
Heat remaining oil in saucepan.
Add shrimp and cook until thoroughly pink about 4 minutes total.
Mix shrimp with orzo.