Shrimp With Orzo, Olives and Feta
PaulaG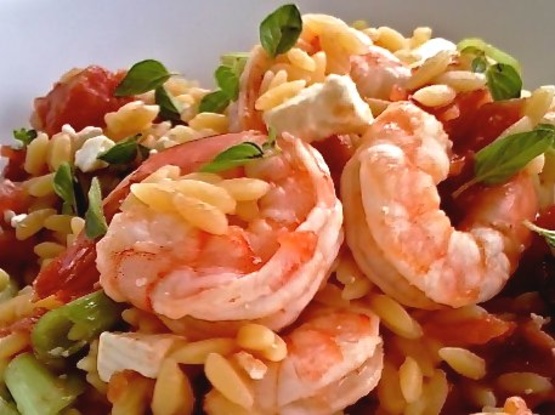 I THINK this came from the local Sunpapers, years ago -- I have been making it so long!It is quick, easy, VERY tasty, and pretty to serve, especially if you have an Italian or Greek decorated platter. Add salt and pepper to taste. (You can save time and effort by using cooked shrimp, but if you have raw, first saute in a few Tbsp. of butter and olive oil.)

What a great and easy recipe, just perfect for the temps we are experiencing right now. I used raw prawns cooked in olive oil and garlic which were perfect for the dish. I changed the dried oregano to fresh basil as I need to use it and it was great too. I've still got heaps of prawns in the freezer so will be making this again soon. I just realised I missed the bit about draining the tomatoes, but as we love sauce, I would do it the same way next time.
Cook orzo according to directions, drain well.
In a large serving bowl, combine shrimp, tomatoes, cheese, vinegar, lemon juice, scallions, oregano, salt and pepper.
Toss well.
Add orzo and stir to mix.
Garnish with kalamata olives, if desired.