Shrimp with Lime, Cilantro and Tomatoes
vrvrvr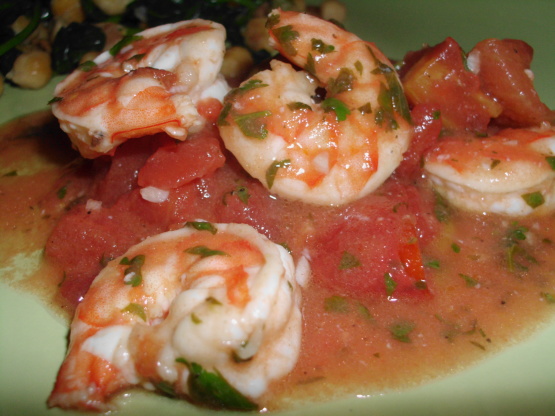 This is a quick and easy dish that doesn't take long to make. It has a bit of a bite, so you may want to adjust cumin to your taste.

THIS IS AWESOME. It's now a staple in our home. We are both in school and it's one of those easy and satisfying meals that we love. The flavors are scrumptious and we just throw the shrimp on the grill. We always serve it up with bowtie pasta.
Mix together lime juice, olive oil, cumin, garlic, salt and pepper to make marinade.
Pour over shrimp and toss.
Set aside for 20 minutes.
Drain shrimp and reserve marinade.
Fry shrimp in 1 Tbsp olive oil in frying pan until pink.
Add tomatoes, cilantro and marinade.
Toss well and cook until just heated through.
Serve over rice or pasta.