Shrimp With Chipotle Sauce
Lawsome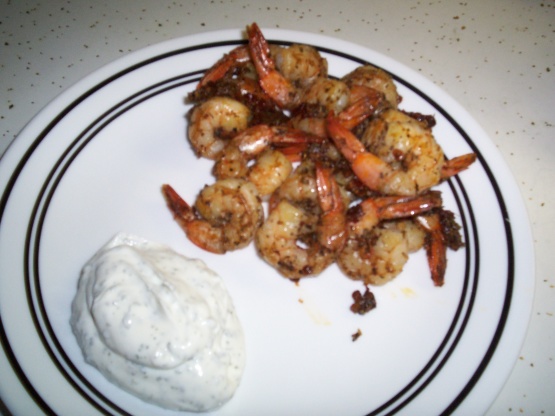 This is one of my favourite appetizers, adapted from The Surreal Gourmet. You can adjust the 'heat' by changing the amount of chipotle pepper and adobo sauce. I usually serve this as an appetizer over a mesclun mix of leaf lettuces, herbs, and tender greens.

These were just 'ok' for me. I made them exactly as written. I thought the cilantro sauce was too runny and the lime flavor was very overpowering - by itself it was disgusting, but with the shrimp it was ok. I don't think I will make this again. Sorry!
Chipotle Dry rub:.
Shell, clean, and devein shrimp. Leave the tails on.
Pat dry with a paper towel.
In a medium-size bowl, mix oregano, thyme, lemon pepper, salt, and black pepper.
Toss shrimp thoroughly with mixed spices. Keep refrigerated until ready for cooking.
Heat oil and chipotle pepper and sauce in a well-seasoned iron skillet or non-stick pan over high heat.
Place about ten shrimp in pan so that each one has enough room to lie on its side.
Cook for approximately 1-1/2 minutes per side, or until shrimp is no longer translucent. Do not overcook.
Serve hot, or at room temperature, with cilantro dipping sauce.
To prepare Cilantro Dipping Sauce:.
Blend cilantro and lime juice in a food processor or blender until cilantro is liquefied. Pour into a small bowl and use a fork to blend in sour cream until fully blended into a pale green sauce.
Refrigerate until ready for use.