loof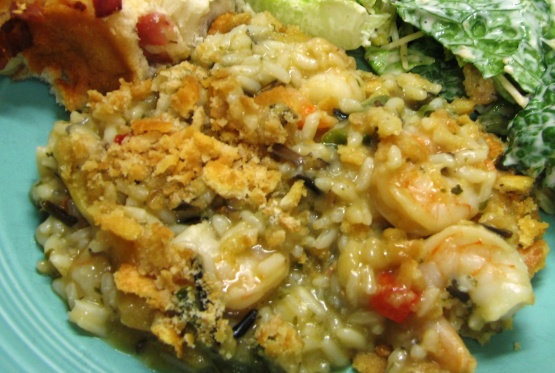 Fixed this last night and it was wonderful. The shrimp were bite size and went so well with the rest of the ingredients. I would imagine that this would also be good with cooked chicken.

Well, it seems I am on a shrimp binge. I did cut the recipe in half, and used less than a 1/4 cup of onions. All I got to say is MMMM-good. It went real well with our shrimp lunch today.
946.36

ml small shrimp (cooked and peeled)

170.09

g boxuncle ben's long grain and wild rice blend

297.66

g can cream of chicken soup

118.29

ml chopped onion

78.07

ml chopped red bell pepper

1

large jalapeno pepper, seeds and membrane removed, cut in half and thinly sliced

177.44

ml butter, divided

236.59

ml crushed Ritz cracker
Cook rice as directed.
Saute onion, bell pepper and jalapeno pepper in 2 tablespoons butter until slightly tender, about 5 minutes.
Mix with the cooked rice.
Fold in cooked shrimp.
Spread evenly into a greased 8X11 inch baking dish.
Cover with crushed Ritz crackers.
Drizzle with 4 tablespoons melted butter.
Bake until bubbly at 350 degrees, about 30-35 minutes or until top is lightly browned.
Serve with salad and garlic bread.