loof751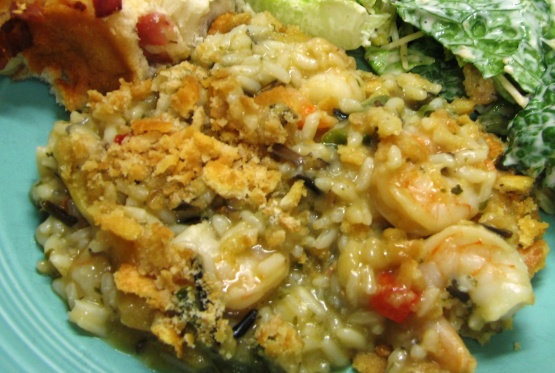 Fixed this last night and it was wonderful. The shrimp were bite size and went so well with the rest of the ingredients. I would imagine that this would also be good with cooked chicken.

Well, it seems I am on a shrimp binge. I did cut the recipe in half, and used less than a 1/4 cup of onions. All I got to say is MMMM-good. It went real well with our shrimp lunch today.
4

cups small shrimp (cooked and peeled)

1

(6 ounce) boxuncle ben's long grain and wild rice blend

1

(10 1/2 ounce) can cream of chicken soup
1⁄2 cup chopped onion
1⁄3 cup chopped red bell pepper

1

large jalapeno pepper, seeds and membrane removed, cut in half and thinly sliced
3⁄4 cup butter, divided

1

cup crushed Ritz cracker
Cook rice as directed.
Saute onion, bell pepper and jalapeno pepper in 2 tablespoons butter until slightly tender, about 5 minutes.
Mix with the cooked rice.
Fold in cooked shrimp.
Spread evenly into a greased 8X11 inch baking dish.
Cover with crushed Ritz crackers.
Drizzle with 4 tablespoons melted butter.
Bake until bubbly at 350 degrees, about 30-35 minutes or until top is lightly browned.
Serve with salad and garlic bread.