vrvrvr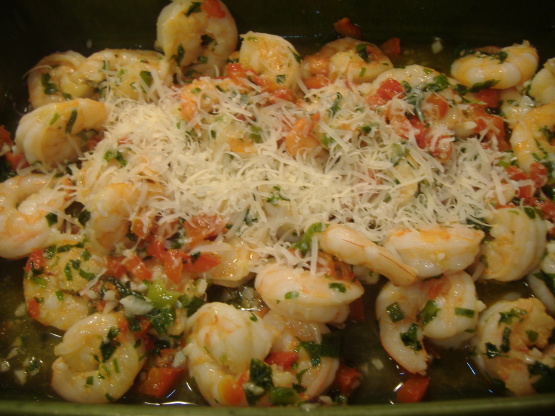 Adapted from a recipe on allrecipes.com

Top Review by vrvrvr
This shrimp was heaven on a plate. I followed the recipe exactly and served it with lemon pepper mashed potatoes, corn and a baby-greens salad. I used fresh grated parmesan on top and the cheese added greatly to the overall dish. Absolutely delicious and very colorful. I used 1 and 1/4 lbs. of large fresh shrimp - between four of us there isn't a single shrimp left.
Melt butter in olive oil in a large skillet. Saute garlic and scallions briefly, but do not brown the garlic.
Toss in shrimp, salt, and red bell pepper and saute until shrimp are pink and barely opaque. Stir in white wine and parsley and simmer 2-3 minutes until wine reduces by half.
Remove from heat and pour into a serving dish. Sprinkle with grated Romano cheese.