Hey Jude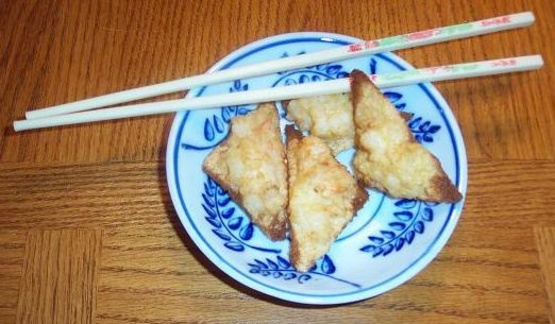 I love the shrimp toast I get at my local oriental restaurant, and wanted to make it at home. I asked the server if she knew how to make it and she sent the chef out to tell me. I tried it today, and it tasted just like at the restaurant. Hope you enjoy this one too!!

Top Review by dpw099
Just finished the second batch, the first one was such a hit my wife requested them again the next day. I found that if I put them in the frig for about 15 minutes before frying they were easier to handle. I also discovered that I can make them ahead of time and put them in the frig and then place them up on a cookie sheet and heat them in a 400 oven for 20 minutes, they come out perfect. I can see that I wll be making these alot! Thanks.
Mince shrimp.
Add water chestnuts, salt, sugar, 1 Tbls.
cornstarch and 1 egg.
Beat egg white and blend in 1 Tbls.
cornstarch.
Remove crusts from bread and cut into 4 triangles.
Brush one side of bread with egg white mixture and then shrimp past.
Fry shrimp side down in 375degree F.
oil until golden.
Carefully turn and brown bread side.
Drain.
Serve hot.